Jessica C. Hassel
University Hospital in Heidelberg, Germany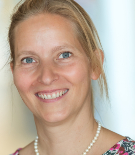 Jessica C. Hassel is a dermato-oncologist working at the University Hospital in Heidelberg, Germany. She is the head of the Section of Dermato-Oncology of the Department of Dermatology at the National Center for Tumor Diseases (NCT) and part of the CCC-director board. Being a dermatologist from training her main interest always was oncology and especially melanoma. She received the board certification in medicamentous tumor therapy (2009), palliative medicine (2015) and dermatopathology (2011). During her medicine training at the University of Würzburg, Germany (1995-2002) she was a scholar of the German Academic Scholarship Foundation, received 2 prizes for her thesis about signal transduction in a fish melanoma and was a visiting student at university hospitals in the USA, Scotland and Australia. After a postdoctoral position at the University Hospital in Zürich, Switzerland (2002-2003) she was an intern in Internal Medicine and then received her dermatology training at Ludwigshafen and Mannheim, Germany. Before her position at the NCT Heidelberg she was the acting head of the Clinical Cooperation Unit for Dermatooncology of the German Cancer Research Center Heidelberg (2009-2010).
Scientifically she runs a big trial center with pharma-sponsored worldwide multicenter trials as well as own investigator-initiated trials and focusses on clinical translational investigations on biomarkers for treatment response and resistance as well as side effects. Recent work was published in high-ranked journals including NEJM, Nature, Lancet, JCO and Clinical Cancer Research. She received the German Skin Cancer Award in 2018 and is an associated professor of the Medical Faculty of Heidelberg since 2019. Currently funded projects investigate the role of immune checkpoints (DFG), the use of artificial intelligence in treatment benefit prediction (NCT) and IITs on patient decision making (GBA/DLR, MSD health award for patient empowerment 2023), sports (NCT) and abscopal effects (DKTK). She is a member of ASCO, ESMO, EADO and DeCOG, a member of the ESMO faculty and the DeCOG board.
In her private life she is a mother of a 13-years old daughter. Together they love to travel around the world. If time allows she likes to run, dance ballet, and play the viola or the piano.